In order to present data in Visualizations, edgeCore first needs to know where the data is coming from. Data Connections can be made to a variety of different data sources. Feeds off of these data connections are then used to pull in raw data.
For information on Data and Web Connections, refer to the corresponding sections.
You can access Connections either by clicking Connect in the admin menu or by going to the Pipeline and then clicking + Add Connection.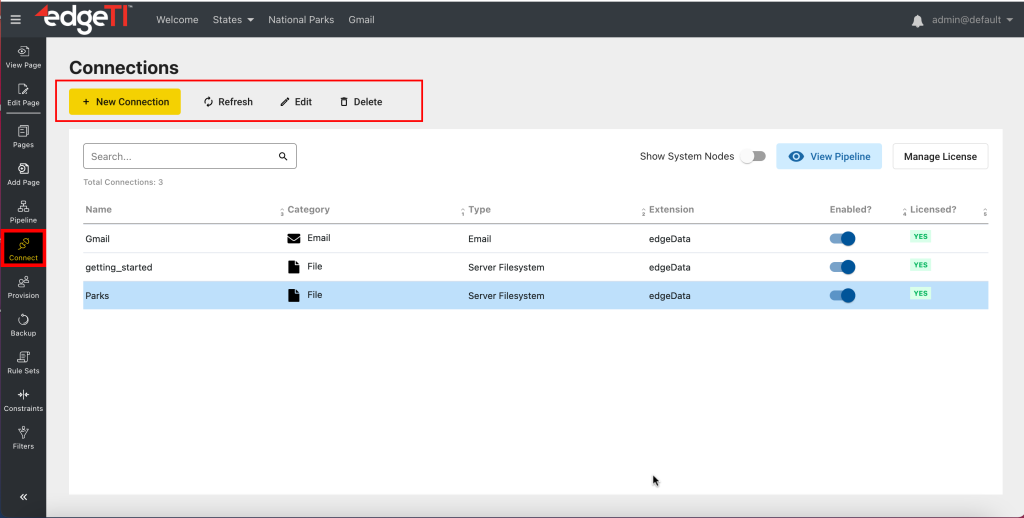 You can perform the following actions on Connections:
New Connection
Used to add a new connection. In this case a new dialog is displayed where you can choose between different connection types.
Refresh
Used to reload the list of connections.
Edit
Used to modify the selected connection.
Delete
Used to delete the selected connection.
Additionally, you can do the following on the Connections screen:
Filter the list by using the Search field
View total number of connections in the system
View pipeline for the selected connection
View System Nodes (edgeSuite Job Status and edgeSuite System Metrics)
Enable or disable a connection by turning on/off the toggle switch in the Enabled? column
View whether a connection is licensed (Licensed? column)