There are several top-level settings that can be configured under the Provisioning area of edgeCore.
Default Preferences
Default Preferences have more options than Domains, and can be found on the Preferences tab.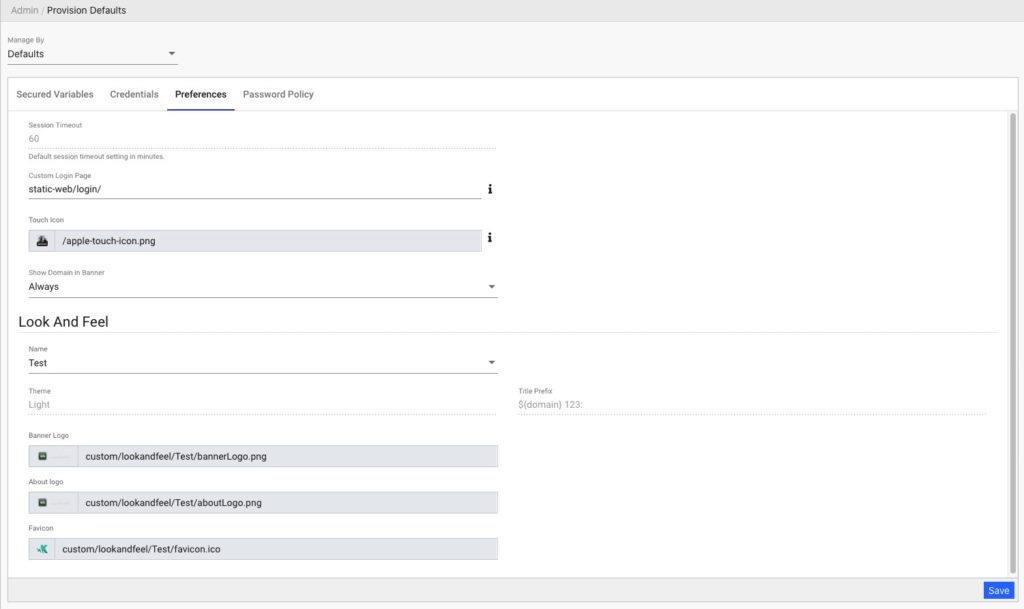 Global preferences include the following properties:
Property
Description
Session Timeout
This shows the read-only default Session Timeout in minutes. The system default is set to 60 minutes.
This value is a read-only property because it is applied on a server initialization and thus cannot be changed without restarting the server.
Custom Login Page
Defines the location on the filesystem for a custom login page. If a login page is not found, the system will fall back to the system shipped login page.
Touch Icon
The Apple touch icon affects mobile devices. It appears as soon as you add it to your home. An administrator can change the Touch Icon image that will appear on the mobile devices by placing a new apple-touch-icon.png in the following location: [Install_Home]/static-web/lookandfeel/
Show Domain in Banner
Defines whether the domain name is going to be displayed after admin@ ; By default, the domain name is always shown; For versions prior to 4.5.0, the change is applied after stopping edgeCore and starting it again. As of 4.5.0, the change is applied on save.
Look and Feel Preferences
For more information on the Look and Feel, refer to Themes.
Domain Preferences
Domain preferences are currently restricted to Session Timeout.
EdgeCore 4.3.4 Version