EdgeCore version: 4.3.2
This feature enables you to quickly and efficiently duplicate and reuse the contents of a page. This includes all the actions and options for the visualizations on the page.
To clone a page in EdgeCore:
Go to Pages.
A list of pages is displayed.
Select the page you want to clone.
Click in the bottom left corner.
A dialog box is displayed.

In New Name, provide a name for the cloned page.
By default, a prefix 'Copy Of' is appended to the new name, but you can delete it and type whichever name you want. The new name must be unique among pages within its folder.
(Optional) Enable the Clone Visualizations toggle switch to also clone the page's visualizations.
When the toggle is enabled, a field for entering a visualization prefix is displayed ('Copy Of ' is the default prefix). The prefix will be appended to each of the cloned visualizations' names.
Click Clone.
The cloned page is displayed in the list of pages.  Note that the new page will not be provisioned by default.  Use the Content Provisioning tab in Domain or Role Provisioning to provision the new page.
EdgeCore 4.3.3 Version
When cloning a page, _Clone will be appended to the page's original (old) name.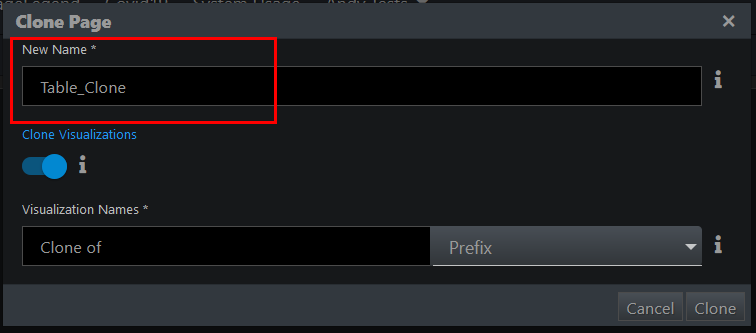 Additionally, once you enable the Clone Visualizations toggle switch to clone the page's visualizations, you will be able to choose whether the names of the cloned visualizations will have a prefix (Clone of) or a suffix (Clone) added to them.